Welcome to Book Fanatics!!
Here you can chat about books you have read, books you want to read, film adaptions and you can recommend books to others. As long as you have fun, you can contribute! If something is marked with a star (*) it is part of a series.
Wiki of the Moment
How Do You Read Yours
Enter books to be considered as one of the top recommended books.
Recommended Film Adaptions ♥
Harry Potter*
X-Men*
Hornblower*
Lord of the Rings*
The Notebook
Great Expectations
Dragon Heart*
Billy Elliot
Pretty Woman
In Her Shoes
Memoirs of a Geisha
Book Fanatics Members
[Corazie]
[sequeena_rae]
[+♥+SAFFY+♥+]
[Mattachu]
[Toffeejalapenos]
[livik2]
[hiya hails :)]
[~Sparky~]
[FeckErseDrink!]
[the obvious child]
[Lady Neit]
[O'saku]
[Acceber]
[Jodie luvs Jack]
[rebeccajlsk]
[Papa Don't Preach]
[Just pretend you never knew me]
[Changer]

[
Up-Dated Pages

]Kevin Brooks Sarra Manning Book Fanatics Competitions
Wiki Banners!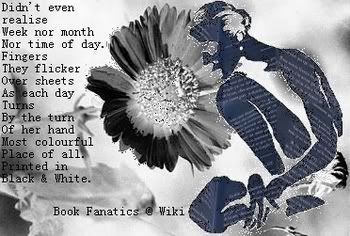 The members of
Book Fanatics
are most influenced (when buying a book) by:
The Cover
The Blurb
The Title...
They are least influenced by
Having Read it
TV/Radio Adverts
---
| | |
| --- | --- |
| | Show these comments on your site |