Page name:
Peculiar Hole in the Sky
[Logged in view]
[RSS]
2009-02-20 05:09:25
| | | |
| --- | --- | --- |
| # of watchers: 8 | Fans: 0 | D20: 5 |
Peculiar Hole in the sky
---
So, welcome to Peculiar Hole in the Sky, an RP created to be taken from the views of any. The title has nothing to do with the story whatsoever. Quite simply, it's implying that
you
are the main character, as the Hole is in your view, as well as my own, if that makes sense. Anyway...
---
This tale takes place in a unique countryside in which anything is possible. There are no rules... no limitations. Except 1- never,
never
anger the gods. It is unto their ruling that the land was created, and it will be unto their ruling, upon their waking, that the land will be destroyed, or so the stories go anyway. Nowadays nobody believes them. So, have a little fun, enjoy your adventures. Fight as you desire. Live your dreams.
---
~The Rules:~
[
For now I don't foresee the necessity of rules- don't make me create a page or you won't be happy.
]
~The characters:~
Goodfolk
Evilfolk
Swayablefolk
(the neutral... They can, however, be swayed in either direction of their own choosing whenever necessary)
---
Created a sort of map as an aid^^ This RP takes place in an entire WORLD, leaving room for many Rpers should this RP grow to those proportions :D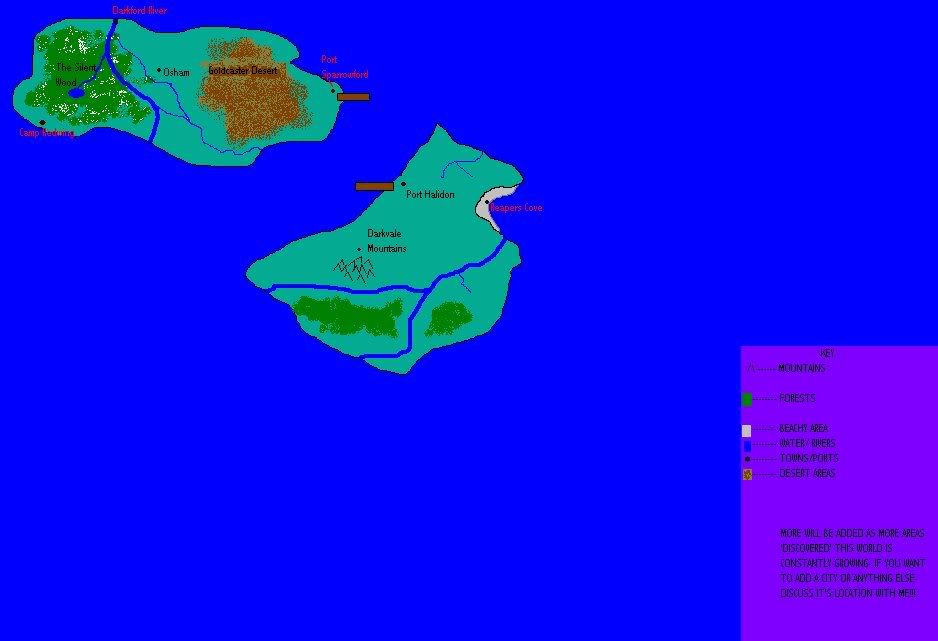 ~The rooms:~
Village of Osham
Port Sparrowford
The Silent Wood
Camp Redwing
Goldcaster Desert
Port Halidon
Darkvale Mountains
Reapers Cove
---
| | |
| --- | --- |
| | Show these comments on your site |