Email: sethdarkwind@yahoo.com
Elftown titles and orders
Description:
NOTICE SEXUAL HARASSMENT IN THIS AREA WILL NOT BE REPORTED.HOWEV
ER, IT WILL BE "GRADED"

ASK ME ANY 4 QUESTIONS AND I'LL ANSWER HONESTLY NO MATTER HOW PERSONAL BUT ARE FOR YOUR EYES ONLY






Given to me by [

Death how I long to embrace you

]



I am a JUGGALO if you hate on Insane Clown Posse, Twizted or Dark Lotus get outta my house.

Juggalo Pledge
I pledge allegiance to the Hatchet of the Underground Juggalo Society,
and to the Ninjas for which it stands, One Family, Under Clowns, Full of Freaks,
with Faygo and Magik Neden for all!!!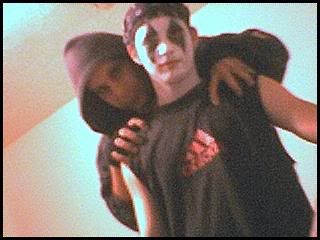 My bro and Me on Hallows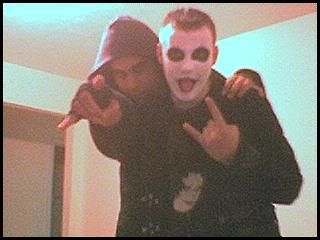 Two of my brothers

"My Own Sickle"

I hold my own sickle
I wear my own black robe
Privately wanting to end me
You couldn't tell by looking
But my tears have been falling
I cant smile for any length of time
I cant feel any love in my spine
I cant believe i'll ever be fine
I want to take a life
I'll take my own
To see the end, flesh rot off bone
When you see me
In my moment of peace
Let me sit
Leave me be
While that part of me looks deceased
The rest of me is free

"Sad Love"

I am cast down so deep in my own sorrow,
Only my own shadow knows where to find me.
For I am hidden in a well of darkness and despair.
Hiding from my own fate, knowing it is to be alone.
I have walked down many roads paved with sadness.
But never one as long as this road seems to be.
For yesterday and today I have loved you completely.
And tomorrow I will love you still, foolishly I know.
You have filled up my head, I can think of nothing else.
You have filled up my heart, it can barely keep its rhythm.
With each painful truth my heart skips yet another beat.
And now at last with all truth spoken, my heart breaks.
Spilling out the love that I have for my beloved.
I try to hold it in, not wanting to lose my joy.
But my love pours out like a bursting dam.
Washing away every memory that we shared.
Flooding me with utter torment.
Slowly my heart dies, drowning in sorrow.
One final beat that calls my beloved's name.
Then silence, for my heart is dead.

TRUTH

As I wander in the dark I search for the truth
In my despair I wander aimlessly, searching
I must find it, it must be here inside of me somewhere
I cry out for it but my own voice echos back at me
I feel my way in the darkness, hoping to bump into it
I feel only coldness, hardness, nothingness....
I search my soul for the truth and what I find scares me
The darkness in my soul is the darkest of the dark
No truth here, only lies of what I want to be, but not what I am
I look into the mirror to search my image, to look into my eyes
Only darkness and emptiness stares back at me
Is there no truth? I search frantically now....
I must find the truth!!!!
I go to my heart, is there truth here?
I look inside and see that it is filled with pain and sorrow
Except for one tiny light, my true love.
The light in my darkness, my bestfriend, my truth.









MUSIC I LIKE:

Dimmu Borgir, Cradle Of Filth, 3 Inches Of Blood, Children Of Bodom, Kittie, Behemoth, American Head Charge, Lamb Of God, Agnostic Front, Chevelle, Deftones, Devil Driver,Insane Clown Posse, Dark Lotus, Disturbed, Drowning Pool, Eric Clampton, Metallica (old), God Forbid, Brand New Sin, Guns 'n' Roses, KoRn, Lacuna Coil, The Rasmus, MSI (Mindless Self Indulgence), Mnemic, Mudvayne, Mushroomhead, Otep, Rammstein, School Girl Knife Fight (local), Impathy (local), Shadows Fall, Slayer, Static-X, System Of A Down.....and more that I can't remember right now.

ASK ME ANY 4 QUESTIONS AND I'LL ANWSER HONESTLY.


and your inner dragon is a ....

ARC DRAGON
In the war between good and evil, Arc Dragons take the side of the noble and good.
When it comes to the powers of Chaos vs. those of Law and Order, your inner dragon is a risk taker and answers to no one.
As far as magical tendancies, Magical spells come as natural to the Arc Dragon as breathe from it's body.
During combat situations, the Arc Dragon shows a preference for the rending and slashing of Hand to Hand combat.


| | | | |
| --- | --- | --- | --- |
| Age: 20 | Year of birth: 1988 | Month of birth: 6 | Day of birth: 5 |
Fantasy race personality:
Human
Elftownworldmap missing.
Place of living:
USA-Texas
Elftown crew wannabe:
Yes
Favorite drawing objects
anime
demons
dragons
magic
vampires
Computer interests
action games
art
music
strategy games
Music
goth
heavy metal
opera
rock
techno
Other interests
| animals | anime | art |
| --- | --- | --- |
| books | chasing the preferred sex | crime stories |
| fantasy | gambling | history |
| hunting | motorcycles | poetry |
| role playing | singing | scifi |
| theatre | travelling | writing |
Sexual preference:
opposite sex
Elftown – the social site made for fans of scifi and fantasy
Visit our facebook page