My current LARP character Elis Anteman - an eccentric musician, storyteller, poet and inventor, raised by a family of entertainers and trained in mining and costruction by dwarves and goblins
My old roleplaying character, uncle Nefas - leader of the Circle of Ima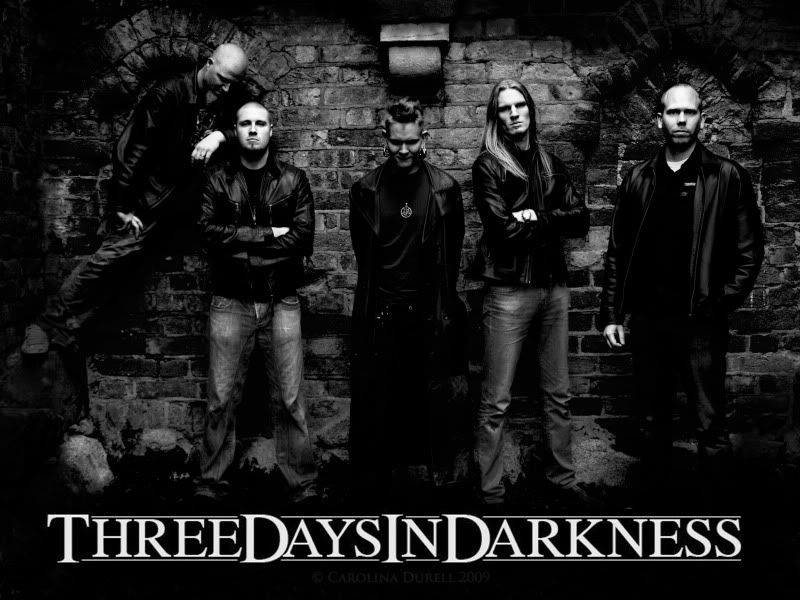 http://www.myspace.com/threedaysindarkness
My band Three Days In Darkness, in which I growl, scream and write lyrics
Description:
Quotes:
"Reality is never entirely black, nor ever entirely white"
Sep -04
"Life is like eating soup with a fork, it all takes a damn long time..."
Nov -04
"The meaning of Life is learning"
Jun -05
What I am and what I do
My foremost interests are music, sex, art, literature, martial arts, design, LARP and poetry (mostly song lyrics). I'm also into philosophy and religion, and like to rant against christianity and indoctrination
.

I've got lots of music projects in motion. I do vocals for the band Three Days In Darkness from Uppsala, a band that is currently on the verge of a breakthrough. First gig(s), new upcoming demo and lots of ambition feeds the strive.

There is my lifetime project Norman Howler, which is symphonic black/death metal songs about religion, human mentality, cruelty and the fate of mankind, with beautiful strings, piano and keyboard tunes and complex lyrics built upon extreme death metal/grindcore drumming, heavy base and lots of distortion.

I'm also working on a fast and heavy industrial grind/deathcore-band called Brute Alley Tea, that is sort of a tribute to the grindcore and death metal underground culture. It's very brutal, aggressive and energic, with ironic and provocative lyrics and a slightly comical and exaggerated image.

I play guitar, base guitar, keyboards and drums, and like to keep up quite an allround skill, to get most out of the music as possible. I prefer drums foremost though, and practice speed blasts and epic, Nile-inspired drumming about 10-12 hours per week.
I find the music wonderfully stimulating and I hope I will have opportunities to perform lots of it live and share recorded songs with other fanatic metalheads like myself.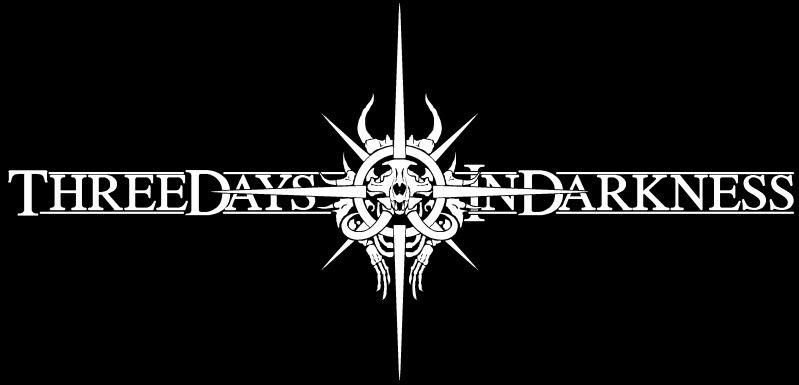 T-shirt/backdrop design for my band that I made (the symbol is made in Paint!)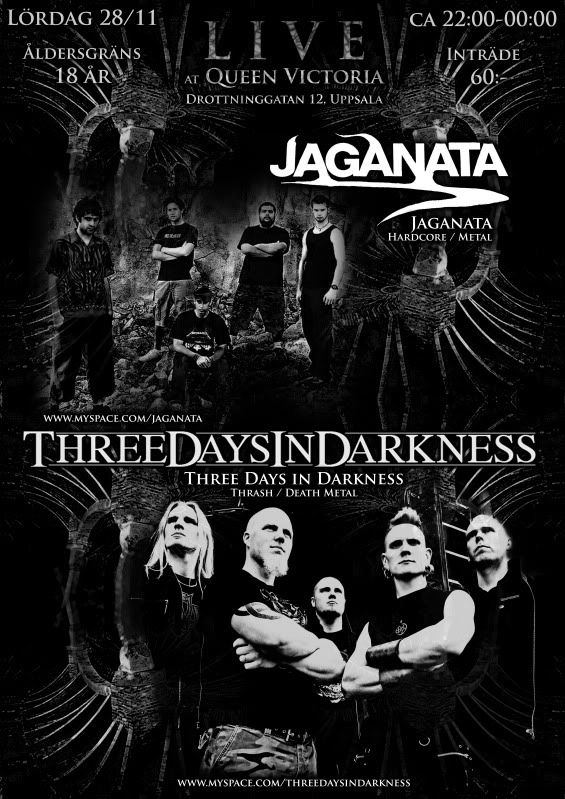 The poster for my very first gig with Three Days In Darkness!
Made by me in Photoshop.
(Our Three Days In Darkness band photos are taken by Carolina Curell © 2009)


Since I'm sort of an atheist/satanist and non-beliver of any christian or other religious philisophies, I've written my own commandments to live by to make one a better and more self-secure person. I think self-esteem and self-loving harmony is more important today, since many young people feel bad about themselves and can't handle the demands of the modern society.

You must love yourself before you can truly love others. By putting yourself first, you can feel secure and pleased enough to start helping others. Most people today act more or less as artificial characters that disguise their true self, and that is because they are so weak inside that they do not dare to show their true being. They rely on others' judgement, and feel that many of their inner thoughts and desires are too weird and/or different to be acceptable.

I believe you must struggle to harden yourself as a person, become stronger in will and mind. Most in my philosophy is based on one's self-image and how good you feel inside. A forced character is limited, while a strong self can take you anywhere. Also, everyone is selfish in the end, but if you make your ego a natural part of yourself instead of a sinful demon inside you, it will not make you a bad person.


My 20 Commandments:

1. Do not wear any symbols unless you know of, and can stand for it's significance.

2. Learn from your mistakes and do not iterate others'.

3. Do not spread propaganda for an opinion that is not your own.

4. Stand up for yourself and exchange experiences with others without preaching.

5. Accept your will and your desires, for not all egoism is destructive.

6. Do not fear what you cannot understand. Instead, try to learn from, understand and accept it. If you can't accept it, repudiate it.

7. Do not try to "find yourself". Instead, try to grow those qualities you are most comfortable with. Never try to be like someone else, for that you can't.

8. Do not be afraid to disgrace yourself. Everything does not revolve around you, and people have short memories.

9. Provoke the world around you every now and then. It builds courage and self-esteem.

10. Do not think that you are better than anyone else. Know that you are. However, do not look down on those who are less skilled, because they are better than you in some other way. Learn how to compensate and collaborate.

11. Nobody is perfect and nobody is incompetent. You are the one who decide whom you like or not.

12. Do not be afraid to experiment with your sexuality. You shouldn't say that you are heterosexual or homosexual until you have tried both.

13. The meaning of life is learning as much as possible. You decide which subjects.

14. Do not specialize too much. Try different things, and try to master as many as possible.

15. Do not be so weak that you cannot stand up for yourself and take responsibility. Nor try to be stronger than you can manage.

16. You can create an image within a niche and represent your opinions, but do not be narrow-minded. Your principles can have many loopholes, contradictions and exceptions.

17. Do not let the demands of the world around you pull you down. If you feel overloaded and inhibited, prioritize the duties away.

18. Do not share an opinion that you can't truly and deeply agree with.

19. People who can't accept you for being you are not worthy of your attention or company.

20. Do not live by others' commandments or rules of life, but create your own!


My 10 Deadly Sins:

1. Narrow-mindness
2. Jealousy
3. Responsibility-phobia
4. Self-denial
5. Submissivity
6. Cowardice
7. Prudishness
8. Stupidity
9. Indoctrination
10. Humourlessness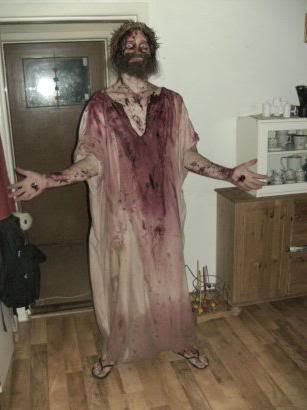 My Halloween costume 2008 (Jesus from Passion of the Christ)



My Halloween costume 2009 (Joseph Fritzl)



Lyrics for one of my Norman Howler songs:


Neverland

A wild child, a little cyborg incarnate
An anti-cosmic brutal carnival
Atheists and a howling red garnet
An imaginary fairytale canal

The child breakes it's bonds that were knit too tight to cut
Cast into the shadows onto thorns pierced through his gut

Wicked, sickened, thickened are the tunes that are revealed
Singing from the flute and from the lips that should be sealed


It is forever and it is never
Oh, it is clever!
It is all that was ever meant to be


Neverland, the everland
The fertile kingdom so entirely grand
Come to seek and to understand
the greatness of the new command

Best incarnate, the foreverworld
Shaped from all the stars that swirled
Forged to mend a scar of bedlam
To cleanse out the human sham

Yet to come is judgement day
And to some the grudge meant paying
debt to life and bliss redeem
Although death unlikely seemed

All for you, I burn the map of home
Let's cleanse out this earthly dome
Together we shall rule and dwell
To all sins we bid farewell


A cherub, an antidote
To the poisoned words from throats
From tongues of men and false deceivers
Let remain but true believers

Angels spit their songs upon the deaf ears and the mad
As the mortals long for cures for all that makes them sad

Fragments from a better world cast sparkles in the shade
But no matter what we trust in or believe, it's human-made


The city below is black and cold
And the nightmares seems so old
What is it that breakes the ice?
That separates the men from mice?

As the warmth drains out and all the dread and fear grows bigger
You are well aware of what will not be when you pull the trigger

Stabbing your knife into a priest or a rapist doesn't matter
You can call yourself a saint too, eventually all will scatter



Chorus lyrics for the Brute Alley Tea song 'Undo Everything':

MANIFESTATIONS OF OLD ARE THE FOREMOST FOUNDATION
OF WHAT HAS BECOME THE NEW FICTIVE SEDUCTIVE FORM
REVELATIONS IN FOLKLORE TALES DESTRUCTIVE FORGING
THE OFFSPRING OF DELUSIONED INDOCTRINATORS

AND AS THE FUTURE REPEATS TODAY IN SLIPS OF FEET
THAT HAS WALKED TOO MANY ROADS TO REMEMBER THE END
THUS WE CREATE OUR CONFLICTS AND SURREAL IMITATIONS
OF THAT WHICH SHOULD BE OUR DESTINED UTOPIA

NO FUTURE SAVES US FROM OUR OWN EXISTANCE'S DEMISE
AND THE BANE AND DOOM OF ALL THAT WE TOOK FOR GRANTED
IN OUR PATHETIC EVOLVED FORM OF INFESTING THE GROUNDS
WHERE THERE ONCE WAS NOTHING BUT FIRE AND DUST

ABANDONED AND IMPRISONED IN THE HELL THAT WE CREATED
AND STILL KEEP ON CRAWLING IN OUR LIVING VOMIT BREED
SUCH AS OUR ANCESTORS DID IN TIMES OF EARLY DESCENDANCE
WHEN THERE STILL WAS HOPE FOR ANOTHER KIND OF TOMORROW


(More lyrics available in my diary)



I honestly do not like USA. And by that, I do not mean that I hate every Amercian man or woman in the world, nor that I detest all that is American, but I deeply dislike the culture and the simply stupid way of thinking that the rest of the world get the understanding of being the common one in the States. I am certainly no racist, and I've known many American people both on the internet and in real life, that have proven the opposite of my opinion. But the christian, hero-worshipping, patriotic and naive brainwashing that USA produces in media and propaganda every day is simply against everything I stand for. I abhor apperance-fanaticism, heroes (being some kind of perfect, politically correct and completely good persons that totally lack of any flaws or weaknesses), patriotism, groundless traditions, excessive wealth and the idea of a daddy-like god that watches over us all like we're some kind of helpless infants. Which is, according to the message brought by American media, the general description of what the USA stands for. I hope I'm not right, and that most of the American people can see through this bullshit.

In addition, I also dislike my own country Sweden, for quite the opposite reasons. The tolerance and opportunities are great, but the people are so fucking close-minded, segregated and afraid of each other that it's embarrassing. No wonder the mental care doesn't work in this country, when our own social lives suck. We never greet anyone we're not sure we know and really like, we think we're so tolerant against different groups that we give them special treatment so that they even more feel like outcasts. Instead of giving immigrants a chance to adapt to our country and rules and get a job, we pack them close together in isolated areas and give them lots of contributions to live on, from which they never get integrated or even learn the language. It's "we and them" everywhere in this country. Young people have no respect for old people, old people can't accept or understand young people, men despise women and women are afraid of men, most heterosexuals are homophobes and most homosexuals are radicals, native Swedes are afraid of immigrants and immigrants can't respect Swedes (understandable), left-wing politicians are as narrow-minded as right-wings and so on. We make everything way more complicated than it needs to be.


----------------------------------------