Angelic Alexandra
(Waaaahhhh Booom!!!!

)
Email: smallfryes_15@yahoo.com
Name:
A.T.H You have to guess my initials...
Read the picture :P I need an owner, any takers? Careful I turn furry every full moon... *woof*
Elftown Badges:
This means I'm one of the Featured Wikigraphers
Description:
Made by the wonderful [Infested_Zling] *loves*
---
Art Work Departments
-Alex's Photoshop Version 2.0-
-Alex's Sketches-
---
Role Playing Wikis
Banner for Alexandriaz that I made, take it if you are appart of this wiki.
Join my wiki: Alexandriaz or join these other wonderful Roll Playing wikis:
Chronicles of Subrira (not related to the ones above)
Cloud Mages Another Great one but also not related to the others-
-Thrive Another awsome wiki that I made!! Check it out!!-
-Validus,-
Seperated My newest wiki, very cool storyline! Check it out!
---
A poem done by my girlfriend; [cute_angel]
Without you, it's a day full of sorrows.
Without you, it's a morning without a rising sun.
Without you, I'm a puzzle with missing pieces.
Without you, time stops, but doesn't stop a person's heart;
(it's just not ticking.)
Without you, one day I'll realize how much you ment to me.
A beautiful poem done by my wonderful sweet friend [crazy Dave]
In your arms
I feel safe
Like nothing can ever hurt me
A war could be going on outside
But I don't care
Because I'm being held close to a love
A love I know protects me
In your arms
I feel warmth
They shelter me from the cold icy life
That seems to follow me
Wherever I go
In your arms
I have no worries
When you hold me close
I can not possibly believe
That something bad will happen
And I can't be frightened
By going home
Or what will happen to me there
Why?You ask.
The reason is this:
When I am in your arms
I feel this love
A love I never felt before
Not only do you own it
But my heart feels it too
Being curled in your arms with my eyes closed
Having you hold me tightly
While listening to you breath into my ear
Is one of the best experiences in the world
And if it was to be my last experience
That I could live in my life
I wouldn't trade it for a thing..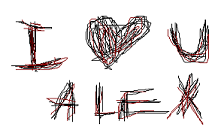 My lovely Rose [Goodbye ET] Made this for me *hugs and loves* ^^ I put it up proudly
| | |
| --- | --- |
| Month of birth: 1 | Day of birth: 6 |
Fantasy race personality:
Halfling
47°35.394'N 124°54.102'W
Place of living:
USA-Washington
Elftown crew wannabe:
Yes
Computer interests
| art | graphics | information seeking |
| --- | --- | --- |
| Mac | music | strategy games |
Music
| adult pop | alternative | blues |
| --- | --- | --- |
| classical | eurodisco | folk music |
| goth | grunge | heavy metal |
| hip hop | house | jazz |
| new age | opera | pop |
| progressive metal | punk | reggae |
| rock | synth | techno |
Other interests
| art | books | chasing the preferred sex |
| --- | --- | --- |
| cooking | motorcycles | role playing |
Elftown – the social site made for fans of scifi and fantasy
Visit our facebook page