Page name:
John howard HATE club
[Exported view]
[RSS]
2006-07-07 12:57:01
| | | |
| --- | --- | --- |
| # of watchers: 4 | Fans: 0 | D20: 1 |
[
HELLO ALL FELLOW EFTOWNIENS. THIS WIKI HAS BEEN CREATED FOR THOSE, LIKE ME, WHO DISPISE OUR DICKHEAD OF A PRIME MINISTER, JOHN HOWARD.

HE IS SO DUMB HE MAKES DOG SHIT LOOK INTELIGENT.

Current Members:
[if you want to join the club msg me and ill add you!!!
]
[
999999#####
] (thats me)
[
Bad Wolf
]
[
nopenope
]
[
Julzia
]
[
Dhom
]
[
Lady Chaos
]
and now for something completely different.....
..


DID YOU KNOW???.....



1953-U.S. overthrows Prime Minister Mossadeq of Iran
U.S. installs Shah as dictator.
1954-U.S. overthrows democratically elected President
Arbenz of Guatemala.
20 000 civilians killed.
1963-U.S. backs assassination of South Vietnamese President
Diem.
1963-1975-American military kills 4 million people in
Southeast Asia.
Agent Orange, used in Vietnam War, still causing birth
defects in Vietnamese children to present day.
September 11, 1973-U.S. stages coup in Chile.
Democratically elected President Salvador Allende
assassinated. Dictator Augusto Pinochet installed.
5000 Chileans murdered.
1977-U.S. backs military rulers of El Salvador.
70 000 Salvadorans and 4 American nuns killed.
1980's-U.S. trains Osama Bin Laden and fellow terrorists to
kill Soviets. C.I.A. gives them $3 billion.
1981-Reagan administration trains and funds 'contras'.
30 000 Nicaraguans die.
1982-U.S. provides billions in aid to Saddam Hussein for
weapons to kill Iranians.
1983-White House secretly gives iran weapons to kill Iraqis.
1989-C.I.A. agent Manuel Noriega (also serving as President
of Panama) disobeys orders from Washington. U.S.
invades Panama and removes Noriega.
3000 Panamanian civilian casualties.
1990-Iraq invades Kuwait with weapons from U.S.
1991-U.S. enters Iraq.
Bush reinstates dictator of Kuwait.
1998-Clinton bombs "weapons factory" in Sudan.
Factory turns out to be making aspirin.
1991 to present day-American planes bomb Iraq on a weekly
basis.
U.N. estimates 50 000 Iraqi children die from bombing
and sanctions.
2000-2001-U.S. gives Taliban-ruled Afghanistan $245 million
in 'aid'.
September 11, 2001-Osama Bin Laden uses his expert C.I.A.
training to murder 3000 people.
2001-U.S. enters Afghanistan to capture Osama Bin Laden.
No success at present.
2003-U.S. enters Iraq to remove Dictator Saddam Hussein and
retrieve U.S. funded 'weapons of mass destruction',
against U.N. recommendations.
No WMDs found. Estimated Iraqi civilian deaths: 38,839
to 43,269.


CHEERS [Bad Wolf]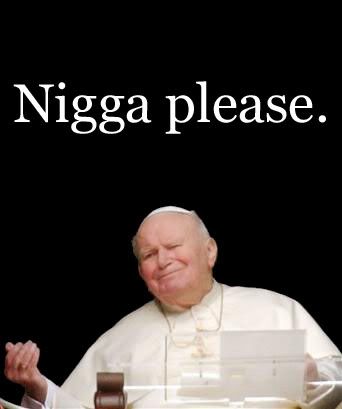 here is [nopenope] contribution to our page. Thanks! good job :)






ADD YOURSELF TO THIS WIKI COMMENT ON OUR PRIME MINISTER..TALK ABOUT WHATEVER YOU LIKE!!]



add this pic to become a memberof the [

John Howard HATE Club

]




here are some photos taken at the protest march in Sydney today [

15 11 05

]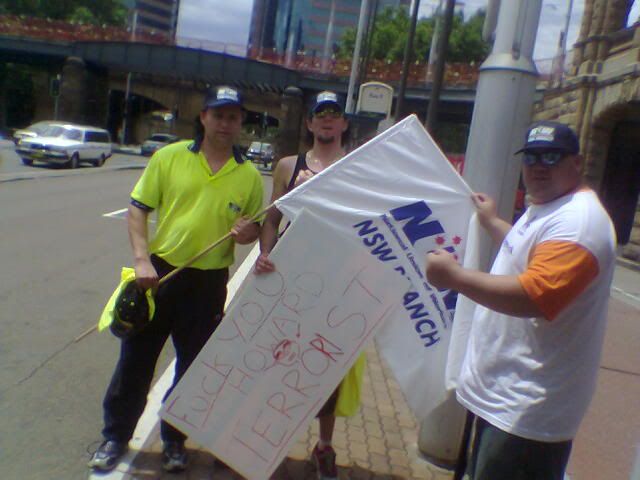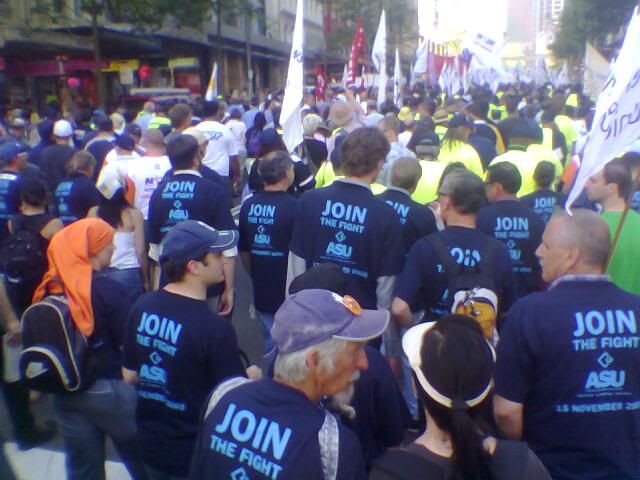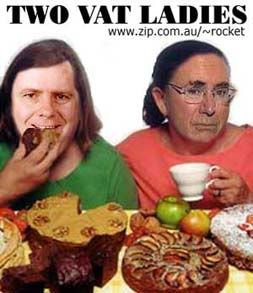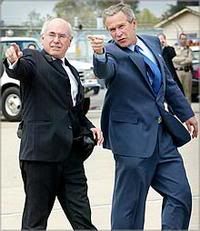 Lucky to be Two brain cells between these two idiots.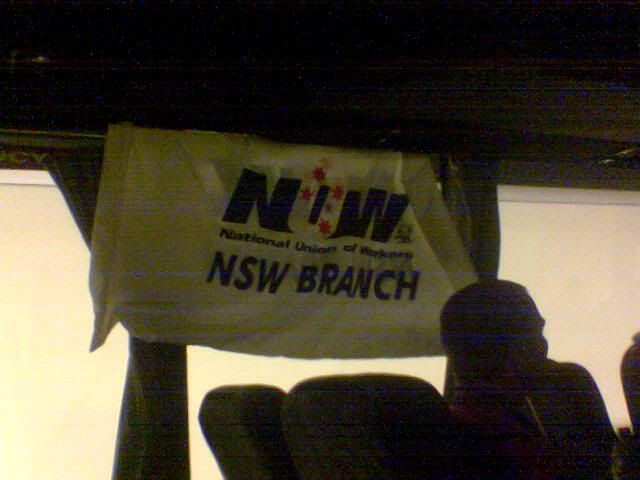 ---
| | |
| --- | --- |
| | Show these comments on your site |